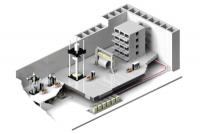 About This Club
Sentez vous libre de poser des questions approfondies sur le domaine et ses dépendances, le club est là Pour aider à cadrer les échanges axés sur la recherche, les questions sur le comment et le pourquoi des pratiques du domaine au delà des formules et méthodes déjà prêt à emploi, sur la fiabilité des méthodes et logiciels afin d'attirer l'attention sur d'éventuels risques à l'usage d'entités à risques que ce soit normatif, lié au nouvelles technologies, méthodes entre autres
---
What's new in this club

layla ing civil

joined the club

Salaam 3alaykoum Juste pour preciser Cette formule permet d'avoir des poteaux dont le calcul au second ordre n'a pas besoin d'être fait bien sûr suivant le côté concerné puisque l'autre est supposé bloqué.ce qui fait gagner un peu de temps mais qui cumulé donne beaucoup. Néanmoins j'ai aussi faite d'autres formules qui permettent d'ignorer les effets du second ordre pour l'ensemble sans côté à considérer. Pour les mails ce n'est pour rien d'autre que le fait de pouvoir contacter ceux qui l'ont utilisé et qui sont intéressés de participer à l'amélioration de la formule par rapport par exemple à quelques feed-backs comme : est qu'après avoir utilisé cette formule qui est conforme à l'eurocode il ont eu à augmenter ou diminuer les dimensions après avoir calculé les aciers en phase dimensionnement ? Est ce que cela aide pour ceux en zone sismique après comparaison aux autres formules de pré dimensionnement. Etc merci d'avance MODIFIED PRE DIMENSIONING.pdf

Salaam 3alaykoum Bonjour un petit travail donnant une formule de pré dimensionnement de poteau hors second ordre. Pour un autre fichier prenant en compte les deux sens de flambement et d'autres sections vous pouvez me laisser votre mail afin que je vous l'envoie Ci joint le fichier. MODIFIED PRE DIMENSIONING.pdf

NAJOUA EL YOUBI

joined the club

Ahmed Diagne

joined the club

Clichés de document , résistance à la traction du béton selon l'eurocode 2 en 1992-1-1 PJ coef beta_cc, formule traction

Soufiène Ben Jaballah

joined the club

dj merouane

joined the club

Version 1.0.0

1 download

Proposition de méthode de dimensionnement des armatures pour bloc de béton ici dans le cas de support de machine vibrante. Seule le calcul des armature est soulevé ici, l'évaluation des actions et efforts est à la charge du concepteur et en accord avec la norme requise du projet. Toute suggestion et critique enrichissante visant à une amélioration du document est la bienvenue et verra le nom de l'intervenant inscrit! Bienvenu au club recherche!